Terms:
Clinical = hands-on experience in the industry
Skills = hands-on practice in a lab setting
This course prepares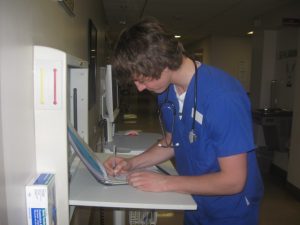 the student to provide basic personal care under the supervision of licensed nurses. It includes approximately (80) hours of online class work and a minimum of (20) hours skills practice and a minimum (40) hours clinical experience in a local health care facility including hospitals and/or nursing homes. Course completers are qualified to take the state skills and written exams to qualify to be listed on the Idaho registry as a certified nursing assistant (CNA). Employment opportunities for CNAs primarily include hospitals; home care and long term care facilities.
Here are some quick facts about the course.
Prerequisite: Fundamentals for Health Professions (with 80% or higher grade) and Medical Terminology (with 80% or higher grade)
Open to Juniors or Seniors only
Spring semester only. The schedule depends on location – May use evenings or weekends for skills and clinical hours plus one class period per day for online work.
(2) High School credits
Online and textbook class with at least (20) hours skills lab and (40) hours clinical
Students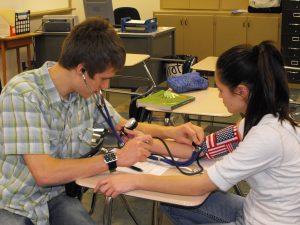 interested in taking this course should click here and carefully read the 2019-2020 CNA syllabus (link below).

If you want to register for this course, follow these instructions. Be sure you have read the syllabus before submitting your registration.