Welcome to Region 2 Professional-Technical Academy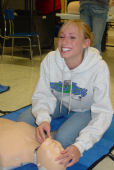 Only qualified high school students enrolling in a course need to register or log in to this site.
We serve Idaho High School students interested in careers in health care. Adults need to contact their local college workforce training office for courses.
If you are new to our courses, you must start with taking Fundamentals for Health Professions (FHP) followed by Medical Terminology.
Student Instructions for Enrollment in a Region 2 Prof-Tech Academy course (print out instructions):
1. Go to the Log in section  to the right of this page and either log in for existing students, or "register" for new students.
2. Complete the form as follows:
Your user name should be "pt", followed by your last name and first initial (example: If your name was Mary Smith your user name will be ptsmithm) If that name is already taken place a number behind your name (example: ptsmithm2) Do not use spaces or capital letters
Email address: Please provide the personal email address that you consistently use (we will need to have an email on file to contact you after graduation for reporting. Your HS email will not be accessible after graduation, so a personal email is needed). If you forget your password, you will be sent a reset email at that address, so make sure you can access it.
Your password needs to be at least 7 letters/characters/numbers long.
Your first name needs to be your legal first name (Example: if you go by a shorter version – such as Bob, when your legal name is Robert – you need to put Robert)
Middle name can be either an initial or full middle name.
Your legal last name
Your display name should be your first name
Date of birth – Please enter year first, then month, then date. Double check that the correct year has been chosen
Gender – select
Mailing address, City, State and Zip Code – complete
Home and cell phone – format should be as follows: area code followed by number (example: 208-962-3901)
Student email – Again use your personal email, not school email
Parent email – enter parent / guardian's email
Grade – select
High School – select
Counselor's name – enter your HS counselor's name
Career goals – provide brief goal (example: Plan to go into nursing)
Race – select
Two or more – select
Limited English – Yes or No
Economically disadvantaged (if you receive free or reduced lunch) – Yes or No
Medical, physical, mental or learning disability – Yes or No
Single parent (either male or female) or a pregnant female – Yes or No
Migrant student (no a legal US citizen) – Yes or No
3. Click the Register button at the bottom of the form – if you have filled out all the required information correctly, you will be logged in.  If you have left anything blank you will receive a message that it is not complete.
4. Then proceed to the instructions below to ENROLL for course(s)
For all students (new and returning students):
Once your log in / registration is complete, choose: "Edit Profile"
1. In the menu at the top of the page, choose "Login"
2. Enter your user name and password
3. You should see a page with your username – click 'View Profile'
4. Click 'Edit Profile'
5. Enroll in your course(s) by:
Clicking the grey down arrow to the right of the course you are interested in
selecting which semester you wish to take the class in, and
filling in the other information for the course.
6. When you are done, click the 'Update Profile' button at the bottom of the screen.
It is very important that you remember your user name and password you set up at this site so you can enroll in future courses and update your student profile.
For questions or if you need to drop a course after you submit this enrollment, please send an email to: sholthaus@sd242.org and tell your counselor as soon as possible.